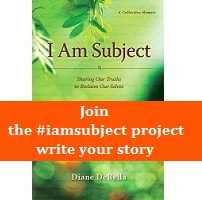 I'm glad you're interested in the #iamsubject project about keeping girls and women subject of their own lives.
I invite you to share your own #iamsubject story, a powerful moment when you reclaimed your self as subject of your own life.
Read all the details on the #iamsubject page here.
When you've posted your #iamsubject story on your blog, or a friend's blog, put the link to your story in the comments below!
Thank you for taking the time to share your stories!